dark blonde hair with
What would the extra space mean though?

What do you mean?

Basically, everything would just become a little bigger. The only thing I could see being reprogrammed for the larger screen is iOS itself to allow 5x5 icon rows or something. Apps would simple be enlarged though. And the difference would be so little that you likely wouldn't even notice in quality.
---
Cat: lifestyle with. but
BForstall
Mar 17, 02:09 AM
Metaphor.




Meh. I'd put money on 75% of the posters in this thread gladly walking out with a $250 iPad 2. No reason to get on a noble, moral horse on the internet and deny it. You all know what you would do deep down inside, if you lied to improve your image online, that's pretty low. If not, more power to you.
---
dark blonde hair with
Aussie iTMS just showing the "The Store is Busy" dialogue. No splash page, just a little box.
---
dark blonde hair with
I understand the point you are trying to make (re: enhanced security measures] but technically those two incidents had nothing to do with the TSA since they both flew from non-USA airports - that is, the TSA didn't screen them at all.

While this is true, we can't allow that technicality to wipe the slate clean. Our security as a whole is deficient, even if the TSA on its own might not be responsible for these two particular failures. Our tax dollars are still going to the our mutual safety so we should expect more.

I guess that depends on how you define "not much trouble". We can't know the actual number, since we will never know many actually get through. But they are catching over half the weapons that their own agents try to smuggle through on test/training runs. So that counts as being "some trouble". How much "trouble" is enough? Read my post above about how much risk a "bad person" organization is willing to take on 50/50 odds. My late father made his career "gaming" situations, so I have a bit of a passing knowledge of it. I am certain that the TSA has "gamed" the odds, and the TSA believe that they have reached a reasonable balance between costing the public time, money, and indignities - and - ensuring a reasonable level of safety for the flying public. They may be wrong.... but I would bet money that, to the best of their ability, they believe they have reached a balance.

Well when a fanatic is willing to commit suicide because he believes that he'll be rewarded in heaven, 50/50 odds don't seem to be all that much of a deterrent. What's worse is that we've only achieved that with a lot of our personal dignity, time, and money. I don't think we can tolerate much more. We should be expecting more for the time, money, and humiliation we're putting ourselves (and our 6 year-old children) through.

If this is the TSA's best effort and what it believes is the best balance, I want a new TSA.


OK, then why are hijackings down? I have my working hypothesis. I cited some evidence to support it. If you don't agree, then it is up to you to state an alternative one that is supported by more than unsupported statements.

I am not saying the TSA (or in my case CATSA) is perfect or haven't mucked things up sometimes. I'm just saying that I believe that they have been mostly responsible for a dramatic drop in airline hijackings. I cited some statistics. Now it's your turn.....

Your statistics don't unequivocally prove the efficacy of the TSA though. They only show that the TSA employs a cost-benefit method to determine what measures to take.

Since you believe in the efficacy of the TSA so much, the burden is yours to make a clear and convincing case, not mine. I can provide alternative hypotheses, but I am in no way saying that these are provable at the current moment in time. I'm only saying that they are rational objections to your theory.

My hypothesis is essentially the same as Lisa's: the protection is coming from our circumstances rather than our deliberative efforts.

Terrorism is a complex thing. My bet is that as we waged wars in multiple nations, it became more advantageous for fanatics to strike where our military forces were. Without having to gain entry into the country, get past airport security (no matter what odds were), or hijack a plane, terrorists were able to kill over 4,000 Americans in Iraq and nearly 1,500 in Afghanistan. That's almost twice as many as were killed on 9/11.

If I were the leader of a group intent on killing Americans and Westerners in general, I certainly would go down that route rather than hijack planes.

ps there is no proof that it wasn't Lisa's rock. There are some very weird causal relationships in the world. Like shooting wolves causes the Aspen to die off in Wyoming. Or .... overfishing the Salmon in the Pacific changes the mix of trees along the rivers of the BC coast.....

It's pretty clear that it was not the rock. Ecosystems are constantly finding new equilibriums; killing off an herbivore's primary predator should cause a decline in vegetation. That is not surprising, nor is it difficult to prove (you can track all three populations simultaneously). There is also a causal mechanism at work that can explain the effect without the need for new assumptions (Occam's Razor).

The efficacy of the TSA and our security measures, on the other hand, are quite complex and are affected by numerous causes. Changes in travel patterns, other nations' actions, and an enemey's changing strategy all play a big role. You can't ignore all of these and pronounce our security gimmicks (and really, that's what patting down a 6 year-old is) to be so masterfully effective.
---
more...
dark blonde hair with
I got the Incase Neoprene sleeve for the MacBook. I didn't see a way to select color or sizes so I assume they're sold out on the other types.

It automatically jumped to the 13" sleeve in black. It's the one I wanted anyway. It's not bad for 28$CAD and free shipping. The off-brand ones on eBay are 20$USD without shipping anyway.

I'd still prefer one with a hard nylon shell but oh well, this fits better inside my bag. Roomier too.
---
Shakira Blonde hairstyles
The US telecoms are controlled by a small number of companies. If the corporations weren't buying influence, we could expect some relief from the FCC (federal communications commission). However, congress and the presidents have de-fanged the regulatory teeth due to prompting from companies like verizon and AT&T.
So we can't use our data as we wish, we can't add a block of tethering to an unlimited plan and we have to pay through the nose for what we do have.
Thank the dev team for the JB. :D
Around $50 USD per month, it comes with 3900 minutes voice + unlimited data and free to use on tethering.
---
more...
Dark Blonde Hair With
Rodimus Prime
Oct 6, 04:25 PM
I still disagree with you. The device is material. The network is supposed to be invisible. You're not supposed to notice the network. AT&T's service isn't great, but I'll put up with it to use the device of my choice.

The mobile industry has a strange business model compared to other industries. You don't buy a desktop computer that you can only use on one ISP or a car that you can only fill up at particular gas stations (excluding electric). However, If these industries were to operate this way, I still think people would go for the product over the commodity.

To me, and apparently many others, mobile service is just a commodity. Some may be a bit better than others, but in the end you're getting a comparable service. The devices, on the other hand, vary. And, yes, I still think the iPhone was game changing. All I remember before January 2007 were RAZRs and Chocolates. Unintuitive text-based interfaces with linear button-mashing controls in a hyped-up shell.


I think your arugument would be valid if phones were not subsudized and you have to buy them at full price. Because AT&T in this case is paying Apple $400 per phone you should choose a network first.

If ISP were footing the bill for desktop then Verizon add still would work but for cell phones most of the cost of the phone is paid by the networks. Not the other way around.
---
londe hair with lowlights and
edenwaith
Mar 24, 03:07 PM
I recall the count down on Apple's homepage, waiting for it to come out. Several days after Mac OS X's release, my Power Mac G4 (which still runs) would arrive, and I slapped in a second hard drive so I could have OS 9 on one hard drive (20 GB) and Mac OS X on the other (15 GB).

I quickly made good use of Mac OS X's UNIX internals by making a PHP-Apache-MySQL project for a class. I made Mac OS X my primary OS pretty much from Day 1. I believe Photoshop was one of the last major programs I needed to launch regularly from Classic.
---
more...
dark blonde hair
Excuse me if this was already suggested:

Perhaps allow a post that receives a certain number of dislikes to be "hidden" from a general view unless someone decides to view it by clicking on a link.

Similar to how a moderator can you a deleted post, but for the general public.

That's an awful idea. Posts will get downrated because someone disagrees with a perfectly valid opinion? I've already seen posts downrated because someone said they prefer Android over Apple or had a good thing to say about Microsoft. Hell, I'd probably get downrated just for my avatar.

As long as people are going to act like little children, using these ratings to hide posts is a horrible idea.
---
dark blonde hair with
I still believe that there will be some type of announcement, on something, before Thanksgiving.

Yup - I hear you. Apple going three months, in the wind-up to holiday shopping without any more "press", I don't think so. I wish it were the iPhone, but I concurr with the rest that this is unlikely. MBPs then?
---
more...
dark blonde hair
Clive At Five
Oct 2, 04:14 PM
You're exactly right. To me, the refusal to license FairPlay is the single most puzzling thing about Apple right now. With one move, they could have potentially hundreds of content providers wrapped around their finger in the same way MS had so many PC vendors wrapped around theirs in the past two decades. They could lock down the market for many, many years if they did it right. (BTW, I don't advocate that kind of thing, but they could do it and most companies would jump at the chance.) The iTunes music store would probably disappear or gradually fade away but then, Apple doesn't make the bulk of their money off that anyway and perhaps the FairPlay licensing money would cover that loss. Think of the iPod with hundreds of licensed content providers out there trying to outdo each other. I can't imagine why Apple hasn't done it yet.

My knowledge on these areas is pretty slim but would Apple be able to license FairPlay content only or would that open up the risk of other companies creating MP3 players that could read FairPlay content and, hence, compete with the iPod? ...or is that some sore of seperate licensure?

-Clive
---
Dark Blonde Hair
Last year the store was updated long after midnight.
---
more...
Dark Blonde Hair
They realize that a hand-out is NEVER the same as a hand-up, and that wealth earned is not generally earned at the expense of others, but rather to their benefit.

What truly amazing rhetoric. :rolleyes:
---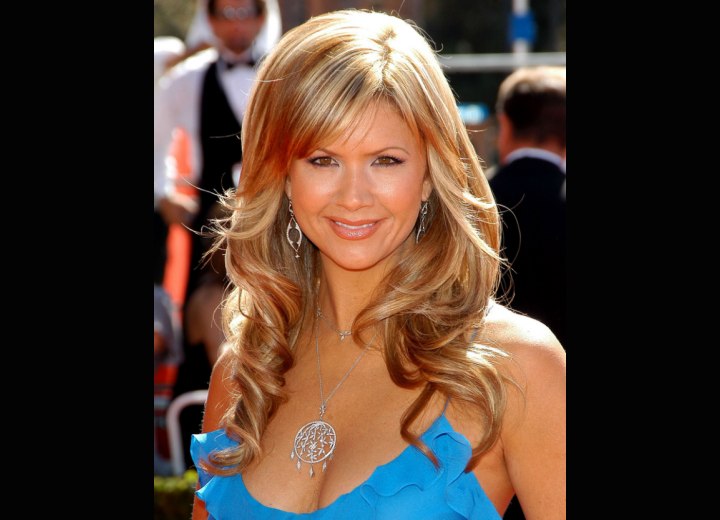 Dark Blonde Hair With
robbieduncan
Sep 25, 11:24 AM
You are kidding right? There's a whole guide on "next Tuesday" right here on MR.

The whole post is meant to be a joke. All of those things are true. It's poking fun all the "no new MacBooks, this is a joke, you suck" crowd.
---
more...
londe hair with lowlights and
finnns2000
Apr 25, 11:55 PM
My 3G is on its last legs, literally. I may succumb to the white iPhone 4 if this is what is in store for the next calendar year.
---
example of londe hair
tbobmccoy
Mar 24, 04:16 PM
Personally, I liked OS X 10.4 the best. My first Mac OS and I'll always have a special place in my heart for Tiger :cool:
---
more...
dark blonde hair with
I agree that as priced that the majority of people getting this car would lease it. Keep in mind though that if you have a daily commute of less than 40 miles, you'll seldom need to purchase gasoline, so compared to a regular car or even a Prius, those savings will add up faster.

Either way, at this point this car seems to be at an early-adopter stage where you would expect to be paying a premium until it becomes more of a commodity or there's more competitors in the space. Kinda like how a 5gb iPod used to cost $400. ;)
---
Teen Idol Blonde With Brown
saberahul
Mar 18, 04:13 PM
Woman walks up to me and says "Is that the iPhone 4?" to which I reply "Yes, it is. Following that she responds with "Well I have the (something I forgot which one she said - I think HTC something) and it is way better than the iPhone 4!"
My reply: "Good for you."
---
that dark blonde/light
killuminati
Sep 8, 09:52 AM
So Saunders then what you're saying is that to believe in god you can't swear? He's not sending mixed messages because his songs aren't saying ******* god.

And just so you know, compared to any other big rappers right now, Kanye doesn't swear at all. He has the cleanest lyrics of any of the current big rappers because he isn't gangsta rap.
---
...never mind. responded to wrong person.

I found a store online selling them
http://store.apple.com/us
---
Exactly. I have never understood why my more liberal friends want to ban anything. Education is the key to solving the vast majority of our problems, not ignorance or fear. I grew up around guns all my life and had fun with them. I also loved archery.

After starting to play hockey and having skydived for three years, the one thing I've finally learned that is the most helpful thing in life is this- do things that scare you. Learn about them. You'll be better off, and you'll grow immensely as a person. Those things will also bring incredible people into your life.

Go to a firing range and learn about guns, citizenzen- even if it scares and repulses you. Trust me, you'll be all the better for it, and you might learn something about yourself you never knew was there. After all, knowledge is power.

I believe this might LITERALLY be the first time I've ever read something from Lee, been impressed with it's depth, and not been saddened by the complete opacity of his partisan blinders.

Very well said, sir. I agree, 100%
---
I hope not, I read that the next iphone might have a camera flash and I dont see one in these pictures. The flash is essential. The lack of one nearly made me decide not to get the current iphone. Either flash or the new technology that makes the pictures just as bright.. DO IT
---
I know they made lots of under the hood stuff, but nothing that entices the consumer to upgrade. Look at 10.5 and that had lots of stuff for the consumer.

I don't really care whether it enticed other consumers to upgrade. I thought they were pretty exciting new features. Yeah, there were no consumer-oriented features, but you didn't say "consumer features," just "features." :)
---
// *myTimer is the 1st timer
// *newTimer is the 2nd timer


if (myTimer != newTimer) {